Reviews Courtesy of Sewing-Machine-Ratings.com
Are Brother Sewing Machines worth the money? Which one is best? Read the reviews below to find out. We look at Features, Warranty, Pros & Cons, Consumer Ratings, and much more.  Brother makes domestic computerized, and Industrial Sewing Machines, as well as Sergers, Embroidery Machines, and Quilting Machines. Machines are available for all skill levels, from the professional seamstress to the beginner. The company is owned by Brother Industries in Nagoya Japan.
Brother is also the supplier of the very popular show, "Project Runway". We have most of the Project Runway sewing machine reviews below.

Brother Project Runway CE7070PRW
92.0
The Brother Project Runway CE7070PRW Computerized Sewing Machine is a great starter machine but it also comes with enough features and accessories to make it a good fit for those with a little more experience.  It has 70 built-in stitches, 7 one-step buttonholes, and 7 specialty presser feet, as well as an extension table for larger projects.
It's a 
fairly lightweight machine that sews smoothly
 and also isn't too noisy.  However, it does not have a needle up/down feature or a speed control slider, and, like many machines today, it has quite a few plastic parts.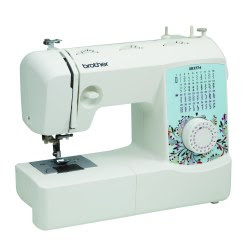 Brother XR3774
95.5
 It's hard to find anything particularly negative about this sewing machine. It is a 
mechanical machine that is easy to set up and operate
, and the ratings are very good. It is also very reasonably priced. It is suitable for beginners and even those with some experience. However, folks looking to do more advanced sewing projects may find it a little limiting as it doesn't have a large number of stitches or features.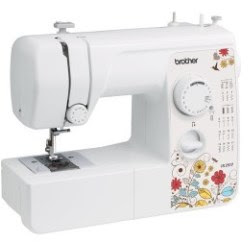 Brother JX2517
92.9
The Brother JX2517 is a lightweight, affordable sewing machine. It weighs about 12 lbs. It is getting excellent ratings and reviews from owners and is especially popular with beginners and those who want a portable unit. This is a straightforward, easy-to-use machine with only 17 stitches. It doesn't have the bells and whistles of some of the more expensive sewing machines on the market, but for the money, most consumers give it high grades.

Brother Project Runway CS5055PRW
90.4 This is the 3rd Project Runway sewing machine we have looked at and it is the most affordable of the bunch.  Owner reviews are largely positive, and a number of consumers consider this machine an exceptional value. The CS5055PRW is not too heavy and it is popular for those who like to take their machine to classes.  It has 50 built-in stitches, an LCD display screen, and is very easy to use.

Brother XR9500PRW Project Runway
90.7 The Brother XR9500PRW Limited Edition Project Runway Sewing Machine can manage simple projects as well as complicated projects, and despite having a wide range of features many owners report that it is very intuitive to use and setup. It is also lightweight, capable of sewing through thick fabric, and includes many stitch options.  There are few complaints regarding this machine but some consumers report struggling with setting the thread tension and figuring out the needle threader.
Brother PQ1500S
97.0 This is a fast machine that is great for quilters and serious seamstresses alike.  It comes with an extension table for large projects, is capable of sewing through the thick fabric, and is relatively quiet.  It also includes a host of accessories.  However, there are a few comments from owners indicating frustration in accessing and loading the bobbin. 

Brother SE-400 Computerized Embroidery and Sewing Machine
92.2 Characterized by fantastic reviews from many sources and a reasonable price for what you get, the Brother SE400 is a combination embroidery and sewing machine that doesn't disappoint.  It features 67 built-in stitches, 70 built-in embroidery designs, 5 monogramming fonts, and 120 frame pattern combinations.  Owners are very pleased with the machine's ease of use and ability to import and use designs from the Internet.  It is also covered by a 25-year warranty.  It does not come with a hard case however and it is limited to a 4″ x 4″ hoop size.

Brother ES2000 Sewing Machine
84.5 Consumer ratings for the Brother ES2000 are quite good – but not as high as some other Brother sewing machines.  It is not too expensive however and folks really like it for its ease of use, lightweight, and host of included accessories. It is a good machine for beginners and it comes with 77 stitch functions and a 25-year limited manufacturer's warranty. 
Brother CP6500 Sewing Machine
94.4 Slightly less expensive than the Brother CP7500, the CP6500 nevertheless gets great consumer ratings.  Many owners comment on how easy it is to use and that it is a great choice for beginners.  The CP6500 is also quiet and lightweight and the automatic needle threading feature is popular.  In addition, it carries a 25-year limited warranty. 
Brother XR9000 Sewing Machine
87.6 The Brother XR9000 is fairly lightweight and owners really like the extra long quilting arm and the drop-in bobbin.  In addition, features that provide extra convenience include a start/stop button, needle up/down button, reverse button, and an adjustable speed lever.  There are some comments regarding the material not feeding straight through the machine however but these are in the minority.  All-in-all consumer ratings are quite respectable – but not stellar. 
Brother Project Runway Sewing Machine PC-210
90.9 This is the little brother of the PC-420 (and it is over $100 cheaper).  The PC-210 is great for beginners and experienced sewers alike and it gets good ratings from consumers.  It is a computerized sewing machine with 50 stitches including utility, quilting, decorative, heirloom, etc.  Owners like the speed control, ease of use, and quietness of the PC-210 but a few have struggled with thread jamming issues. 
Brother CP-7500 Computerized Sewing Machine
92.6 The Brother Cp-7500 Computerized Sewing Machine is getting very good ratings from owners.  It is not too expensive but prices vary significantly from one online retailer to another. You will want to do your due diligence if considering a purchase.  The machine comes with over 100 multiple stitch functions, auto-size buttonholes, an oversized table, and many accessories.  It is also very easy to use and lightweight.  Although some consumers feel that its lightweight construction may have durability issues over time. 
Brother XL3750 Sewing Machine Ratings
81.9 The Brother XL3750 is an inexpensive sewing machine that gets decent reviews.  It is popular with consumers due to its ease of use and ability to work well with a heavier fabric.
Brother PC-420 Project Runway Sewing Machine
96.1 The Brother PC-420 Project Runway Sewing Machine gets spectacular consumer reviews.  With a score of 96.1 from 59 reviews, almost all of those that bought the machine are very happy with it.   Frankly speaking, it is hard to find comments related to this machine's drawbacks.   It is also absolutely packed with features and comes with 294 utility and decorative stitches, 10 styles of automatic buttonholes, and 3 lettering styles. 
Brother XL2610 Sewing Machine
85.8 Like many of the best-selling Brother sewing machines, the XL2610 is a very good entry-level machine.  It is a free-arm sewing machine and it comes with 25 built-in stitches and 59 stitch functions.  Consumers give this machine good marks and most feel that it is a great beginner machine that does what it is supposed to do.  It is also lightweight, easily portable, and reliable. 
Brother LS2125i Sewing Machine
82.3 The Brother LS2125I 10-Stitch sewing machine is fairly inexpensive and very much a machine for beginners.  However, it still gets good grades from consumers and many indicate that it is an excellent choice if you are just learning to sew or if you only have simple sewing jobs to tackle. 
Brother XL2600i Sewing Machine
86.9 The Brother XL2600i sewing machine is lightweight, versatile, and very reasonably priced.   It also comes with 25 built-in stitches, a one-step automatic buttonhole, and a number of other features.  Consumers like that it is inexpensive and easy for the beginner to use, but several folks have had difficulty in using the automatic needle threader and have also raised concerns about the level of plastic used in the unit's construction.